Meet Our Veterinarians at Randhurst Animal Hospital
---
Rajinder Kumar, DVM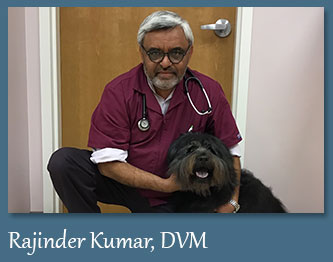 Dr. Kumar has been practicing for over 20 years. In India he grew up on a farm with his family which was what lead him to his career. He graduated from the College of Veterinary Medicine in Punjab, India. Dr. Kumar completed his studies at the University College of Veterinary Medicine at Iowa State in Ames, Iowa. He worked as an associate in veterinary clinics in Wisconsin, Indiana and Illinois for over 6 years. In Sept. 2003 he opened the Des Plaines Family Pet Clinic. Ten years later in January of 2013, Dr. Kumar moved his clinic (now called Randhurst Animal Hospital) to a brand new facility located in Mount Prospect to be able to meet the growing needs of all of his current and future clients.
He is a member of the AVMA as well as the ISVMA. His favorite procedures include complex soft tissue surgeries where he is able to utilize his skill with the laser scalpel, but he gets the most satisfaction from the full and complete recovery of his patients.
---
Weronika Gajowniczek, DVM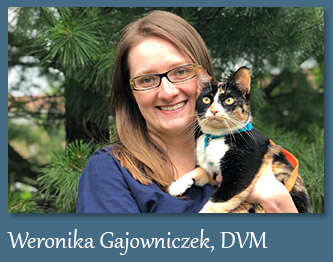 Dr. Weronika Gajowniczek graduated from University of Illinois College of Veterinary Medicine in 2019. Her family came to the United States from Poland when she was two years old and Dr. G grew up in Morton Grove, IL. She earned her BA in Biochemistry at Lawrence University in Appleton, WI and then moved to Urbana, IL for veterinary school. Dr. G has returned to the Chicago suburbs to start the career she had dreamed of since childhood.
While in vet school, Dr. G developed interests in dentistry and ophthalmology. While Dr. G loves all animals, she has a special affinity for her feline patients.
In her free time, Dr. G loves to hike and plans to continue her goal of visiting every national park. While at home, she is found cuddling her cat, Roxanne.