Meet The Randhurst Animal Hospital Groomers
---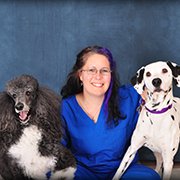 Danielle
Danielle is our Canadian-born groomer and has been a part of the Randhurst Animal Hospital family since 2009. She has been grooming since 2002 and she loves it! She has worked in some more remote places such as Ocala, FL and Edmonton, Alberta, Canada! Sometimes it is not the most glamorous job, but she feels such a sense of accomplishment helping animals feel and look their best (even if they only want to roll in the mud as soon as they get home!). She currently lives with three wonderful dogs, a handful of cats and a husband. All of her current furry friends were failed fosters for one reason or another and there is always a new foster dog (and cats) moving their way through her home to find permanent homes of their own. Outside of work she is involved in many aspects of the animal world. She trains and competes regularly in agility with all her dogs. They don't always do well, but they always have fun!
Additionally, one of her dogs works as a therapy dog for Rainbow AAT at Lutheran General Hospital visiting patients. She has fostered and helped find homes for over 62 dogs including four that she transported back from Hurricane Katrina-ravaged New Orleans and, of course, she adopted one of those! She is also active in TNR (trapping neutering releasing) for local feral cats. Last summer she helped with over 80 cats and kittens. What an overwhelming and fulfilling accomplishment that was! She absolutely loves what she does and can't wait to meet you and your furry family members. Whether you would like a breed style cut, something of your own choosing or you just aren't sure what you would like, she will be happy to help you figure out what will be best for both you and your pet. By the way, that means, "yes," she will groom your kitty friends as well!
---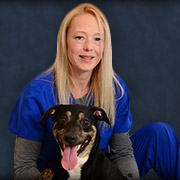 Heather
Heather started with us in 2014 working the front desk. She moved to grooming assistant in 2017 and is loving her new position! She has a strong passion for animals and helping people. Being raised around farm and domestic animals, and has over 20 years of animal rescue experience. Heather enjoys spending time with her family, fur babies and volunteering.
---